Customer service
Delivery by PostNL
Bronsheim Music has a cooperation with PostNL. We aim at delivering your order as soon as possible. This is mostly within one working day. View the current status of your order at www.bronsheimmusic.nl. PostNL deliver your package the first working day following the date of delivery by Bronsheim Music (24-hour service). You can track your package online with Track & Trace. It's also possible to have your package sent to a PO Box. Your package will be available as off 7.30 next morning. PostNL also delivers on Saturday. Nobody at home? PostNL offers the package to the neighbors. You will receive a notice stating the house number where the package has been delivered. If nobody is available PostNL delivers later again. If delivery of the package ultimately is not possible, the shipment is available for three weeks at the Post Office PostNL. Are you out of house often? Have the order delivered at your work, with family or friends.
Delivery time
We strive to deliver orders within 1 working day.
Shipping costs
Shipping costs for a complete set of music are € 9.75 per order for delivery within the Netherlands. Shipping costs for CDs, parts, scores (A4) and ensembles are € 3.00 per order for delivery within the Netherlands. Both amounts are fixed regardless of the number of items per order.
The rates are different for delivery outside the Netherlands (see table);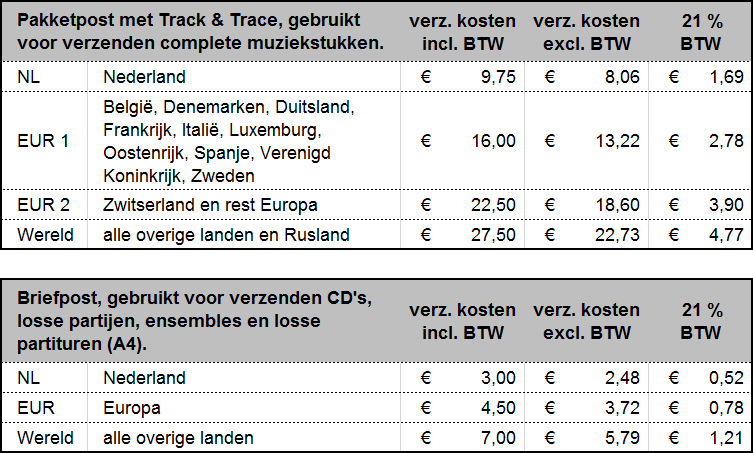 Delayed delivery
We aim at delivering your order within 1 working day at PostNL. In case of delay, you'll be notified as soon as possible.
Returns
The following conditions subject to the returning of one or more articles:
The articles are to be returned in the original, undamaged package.The articles show no sign of use/copy. CDs with broken seals can not be exchanged and / or returned.
The approval period of seven working days from 1 day after receiving the order has not yet expired.
The goods are shipped in a proper package. We prefer that you use the package we have used to send the items to you.
Include (a copy of) the bill with the shipment, clearly indicating your account number.
Please include a letter explaining why the items are to be returned (does not meet expectations, wrong order, wrong delivery).
Send shipment to:

Bronsheim Music B.V.
T.a.v. Afdeling Retouren
Boedapestlaan 217
3404 VC IJsselstein
The Netherlands
Costs of returning the products are at your own expense. You can choose to send the package registered and / or insured. For packages sent via PostNL you'll receive a Track & Trace code to track your shipment online. Ensure sufficient postage on the shipment. With insufficient or no postage the package can not be accepted by us and will be returned to sender. If there is no sender listed on the item, the articles will be lost. The amount you paid (excluding shipping costs) will be refunded at your account within 10 working days after the day your shipment has been received by us.
Complaints
Have you received a damaged or wrong item? Please notify us within 7 working days. Do you have other complaints? Please inform us as soon as possible. You can reach us at +31 (0) 30 265 7309 Monday / Friday from 9:00 am to 18:00 pm or by e-mail at info@bronsheimmusic.nl. Your complaint will be processed within 7 working days. You will receive a confirmation by email.